New Di Ford Fabric is Here!

---
New Arrivals



---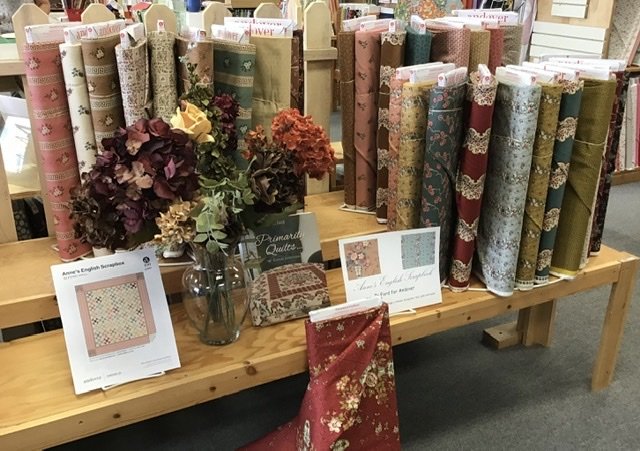 Finally, the new Di Ford line, "Anne's English Scrapbox" is here!
The focus fabric is reminiscent of Chintz with fabulous companion fabrics. There are rococo stripes in beige and flame, teal and burgundy falling leaves, climbing vines, sweet roses, tulips in teal and moss, zingy leaf shirtings in moss and rose, with shades of gold and cream. Think late 18th century.
You must come and see them, or check them out here in our Online Store.
Mark your calendar for the 5th Saturday Bag Sale on August 29th.
Bring your black bag and $1 to register your tag. Whatever fits in the bag will be 20% off at the register.
Are you ready for Halloween? We just packaged a great new kit "Hocus Pocus"?
It is a great pumpkin themed kit with lots of oranges, blacks and greys;
perfect for Halloween or Autumn décor.
Remember we have mask making supplies and a wonderful array of novelty scrap packages
containing 8 Fat Eights.
We all want to thank each of you for stopping by and sharing with us
all the projects you have finished while "sheltering in place".
Keep up the great work and stay safe!!

The Staff at Quilters' Corner

Elaine, Pat, Carol, Dawn, Pam, Debbie, Diane, Donna, Lindsay,
Patty, Vickie, Cris, Gerri, Paula, & Sue


916-366-6136
Quilters' Corner Sacramento